Decision Making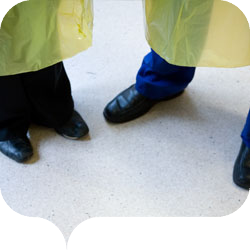 Ask yourself the following questions and see how many you can answer well:
Do you know the types of essential and desirable criteria your chosen specialties, are looking for this informationon the person specifications?

Do you have a CV ready to give to any contacts you make?

Can you identify your own career decision making style?

Are you able to evaluate how your own personal priorities and constraints which may affect your career decisions?

Can you identify the steps needed to reach your career goals?

Are you now able to make definite career related decisions? Give us some insight into your thinking in choosing this speciality?

Can you give an example of problem solving, decision making and situational awareness?

Have you a plan B?
'It is probably true that we spend more time planning our annual holiday than we spend planning a career which matches our skills, personality profile, and aspirations.' John Lees - Career Coach.
Summary
Think about how you have made decisions in the past and how this will help you when you come to decide on a definite career path.
Do you have restraints, such as family commitments, that require you to search for jobs in a particular location, or for part-time working?

Consider how you can sell yourself on your CV or application form. What evidence have you got that will really impress a prospective employer that you are fully committed to this career area?
Information Factors
To make sound decisions it is important to gather enough information to evaluate your options and understand how you will apply for jobs. As noted in the preceding section, you can research your options, make connections through networking and gain work experience to collect more direct information.
The

Specialty Training

website offers a useful starting point for those still in the career exploration stage as it can help you look at the competition ratios and the essential and desirable features for each chosen speciality.
Decision Making Experience
Confidence in decision making abilities comes from having made successful decisions in the past. Think about the positive decisions you have made already.
How did you make those decisions? How did you decide to take a PhD? What information helped guide you through your decision making process?
Recommended Activities
Prepare your answers to those all-important questions: "why you want to train in this specialty?" or "why you want to go into academic medicine or research"
Ensure that you have convincing reasons that demonstrate that you have thought about this career in depth. Also consider what your plan B or even plan C is.