Dental Foundation Training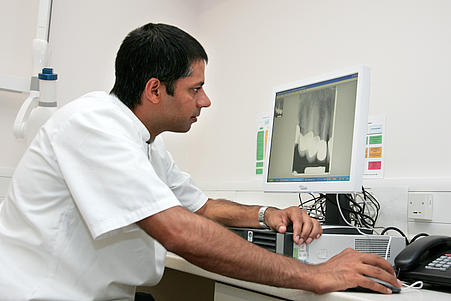 Dental Foundation Training is a national mandatory training programme for any dentist who wishes to become a Principal in NHS general dental practice, i.e. to hold their own contract with the Area Team.
New graduates work in approved practices and are employed as Foundation Dentists (FD's) by the Lead Employer.
Educational Supervisors and FD's are formed locally into one of 5 schemes comprising of 25 FD's and their Educational Supervisors. Schemes are managed by Training Programme Directors, employed by the Postgraduate Dental Dean.
FD's work a 35-hour week, are salaried, employed by the training practice and meet together on a regular basis to take part in 30 educational study days. Outside term-time FDs spend the whole of their 35-hour week in practice or the community.
The FDs written contract of employment with the Lead Employer (The Trainee's Contract) is nationally agreed. DFT within HEENW is normally completed on a full-time (1 year) basis.
Educational Supervisors are responsible for FDs' work and are trained in teaching skills and assessment methods. They conduct weekly tutorials with their FDs, supply them with help on demand and supervise their work as necessary. The development of peer and self-review and promotion of the need for professional education, training and audit as lifelong continuing processes are emphasised throughout Dental Foundation Training.
FDs keep weekly and monthly logs of their work and training experiences, undertake self-assessments and regular work-place based assessments. FDs keep their records of training through Professional Development Portfolios which are used by the Postgraduate Dental Dean as part of the evidence he reviews to assess FDs' satisfactory completion of Foundation Training.
Upon completion of Foundation Training, dentists receive Certificates of Completion signed by the Postgraduate Dental Dean. Dentists who possess such Certificates may be allocated dental list numbers by Area Teams, upon application, which enable them to work as principals in the General Dental Services.
Please note that DF Training Certificates will be issued at the end of Dental Foundation Training year.
Page reviewed on 1 June 2023