Hospital Medicine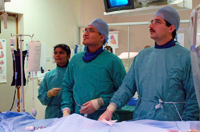 We are responsible for all activities linked with the postgraduate education and training of doctors within hospital medicine in NHS England (formerly Health Education England) working across the North West.
We support the monitoring, planning and performance of education programmes.
In addition, we aim to provide access to practical information needed by medical students and trainees within Foundation and StR grades and an insight into what NHSE NW can offer.
If you are looking for specific information related to your grade please follow the link below to the relevant sections:
Foundation training

-

for information on our School of Foundation Training & Physician Associates
For an overview of specialty training, please contact:
| Name | Job title | Contact details |
| --- | --- | --- |
| Emma Woods | Programme Support Business Manager (Liverpool Office) | |
| Claire McGovern | Programme Support Business Manager (Manchester Office) | |
Lead Employer Team, Mersey and West Lancashire Teaching Hospitals NHS Trust:
Website: https://leademployer.merseywestlancs.nhs.uk/
Email: lead.employer@sthk.nhs.uk
Tel: 0151 478 7777
Email: leademployerpayroll@sthk.nhs.uk
Tel: 0151 290 4658
Other useful links:
Education courses (PG Certificate in Workplace Based Postgraduate Medical Education Fellowship) Email:england.facultydevelopment.nw@nhs.net
Intra-LETB Transfer Policy for transferring between sectors within HEE NW (on Policies and Procedures page)
Leadership courses (Medical Leadership Fellowships, Postgraduate Module in Medical Leadership)
Less Than Full Time (LTFT) Training
Out of Programme (OOP) information
Revalidation | Form R | Email: england.revalidation.nw@nhs.net
Study Leave | Email: england.studyleave.nw@nhs.net
SuppoRTT (Supported Return to Training)