North West School of Surgery - Otolaryngology (ENT)
North West Otolatyngology (ENT)
Welcome to Otolaryngology (ENT) Training
in the North West
Otolaryngology deals with the diagnosis and treatment of the whole range of medical and surgical problems affecting the ear, nose and throat and surrounding anatomical areas.

HEE North West Otolaryngology (ENT) Sectors
There are opportunities to move across sectors for specific training needs. Both sectors can deliver the whole curriculum, there are large children's hospitals in each of the areas. Both training regions and committees work very well and facilitate training for all trainees.
There is an active research collaborative in both sectors and trainees are encouraged to link into this and get involved in multi-centre studies.
Educationally the training days are combined and run on a monthly basis.
From August 2018, run-through training in Otolaryngology will also be available in the North West as part of a pilot scheme. Run-through posts will be available in both East and West Sectors of HEE North West from ST1 level.

Otolaryngology (ENT) Training Programme Director
Mr Samit Ghosh

Other Training Contacts

2nd HEE North West Temporal Bone Competition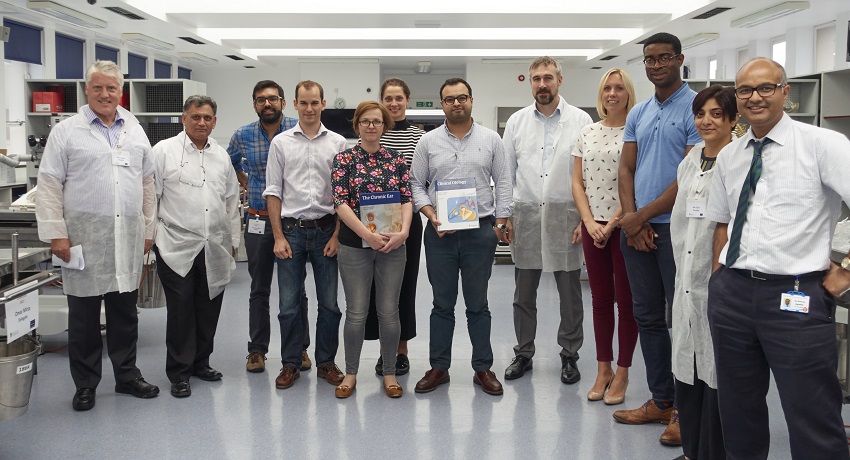 The 2nd HEE North West Temporal Bone Competition took place on 5 July 2017. The Winner was Omar Mirza and the runner-up was Helen Beer.

WWL Great British Bake Off
Here are the results of the impromptu WWL Great British Bake Off held on 28 March 2018 in theatres.
Venue:
Theatre in Wigan. Time: 2:30 - 2:35pm (in between cases, no hold up to operations)
Protagonists:

In the blue corner: Prof. Nirmal Kumar representing Consultants, hitherto undefeated champion, holder of several unpronounceable titles.
In the pink corner: Miss Antonia Tse representing Trainees, otherwise called Generation Y or "upstarts". No titles - as yet.

Product in question:

Brownie baked at home (each 3 days old).

Setting:

Randomised, blinded trial comparing brownie A (A Tse) vs brownie B (BNK).

Judges:

Jen Gilchrist: representing trainees.
Amy Halliwell: representing hospital managers.
Joanne Perkins: representing nurses.
Senior (but not senile) judge: Dr Venkat.

Verdict:

Majority verdict, upheld by senior judge.

Victory by a clear margin:

Antonia Tse representing upstarts.

Vanquished:

Retired "hurt" ex-champion Prof BNKumar. Gracious in defeat accepted never to bake again.... Looking for a consultant ENT surgeon, must be good at baking to take part in next round.

Victor:

Gloating, new champion Miss Antonia Tse. Holding aloft a prize "Obsession" with what.....? Mind you, she has the time. What do trainees do except go on holidays, ski, bake...

Disclaimers:

to TPD: trainees do learn some extra skills.
to Head of School: finer points in surgical training include attending baking school, eating in Michelin starred restaurants.
to trainees: consultants are chafing at the bit. You should think seriously about your careers. Did you not realise that defeating does not bode well at all?
to FRCS exam going trainees: what are you doing reading such material, you should be studying. Best wishes for exams!

Next round:

Date and time to be decided soon.

Otolaryngology Curriculum

For the most up to date syllabus and curriculum, please visit the ISCP website

JCST Certification Guidelines

HEE North West Programme Support for Otolaryngology
Ian Griffiths, Programme Support Administrator
Ian Griffiths is based at our Manchester office at Three Piccadilly Place.
Tel: 0161 268 9520
Email: ian.griffiths@hee.nhs.uk

National Otolaryngology ST3 Recruitment
National Recruitment for ST3 Otolaryngology is managed by HEE Yorkshire and the Humber.

Click here to go to HEE Yorkshire and the Humber's Recruitment website

Click here to go to the National HEE Recruitment Website (includes Timelines, Guidance, Competition Ratios etc.)

ST3 Person specifications

JCST: Surgical selection in the UK

National ST1 Otolaryngology Run-through (pilot) Recruitment
National Recruitment for ST1 Otolaryngology run-through is managed as part of the Core Surgical Recruitment by HEE London and the South East.

Click here to go to HEE London and the South East's Recruitment website

Click here to go to the National HEE Recruitment Website (includes Timelines, Guidance, Competition Ratios etc.)

Prospectus for Otolaryngology Run-through Training

HEE North West Links
SuppoRTT (Supported Return to Training)
Study Leave | Email: studyleave.nw@hee.nhs.uk
Out of Programme (OOP) information
Less Than Full Time (LTFT) Training
Revalidation | Form R Part A | Form R Part B | Email: revalidation.nw@hee.nhs.uk
Leadership courses (Medical Leadership Fellowships, Postgraduate Module in Medical Leadership)
Education courses (PG Certificate in Workplace Based Postgraduate Medical Education Fellowship) | Email: educatordevelopment.nw@hee.nhs.uk
Intra-LETB Transfer Policy for transferring between sectors within HEE NW (on Policies and Procedures page)
---
Page Last Updated 7 August 2019