Career Planning Support During Foundation Years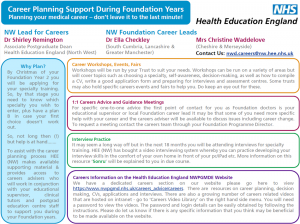 By Christmas of your Foundation Year 2 you will be applying for your specialty training. So, by that stage you need to know which specialty you wish to enter, plus have a plan B in case your first choice doesn't work out.
To assist with the career planning process HEE (NW) makes available supporting material & provides access to careers advisers who will work in conjunction with your educational supervisor, clinical tutors and postgrad education centre staff to support you during your Foundation years.
This flyer details what is on offer.